Hair style - 1
Hair Styles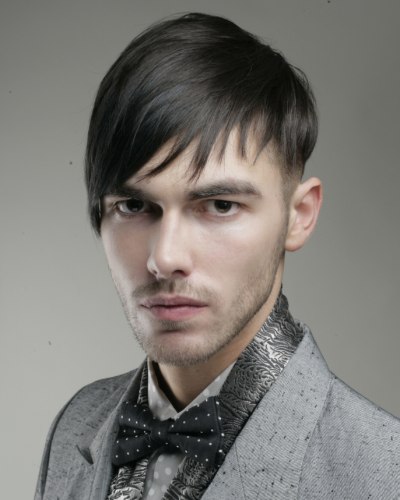 Seth and Jaymey explain the look that caught the judges eye and clinched them a place in the Grand Final; "We wanted our look to have a slightly 70's influence, something we'd seen a lot of in the Dolce&Gabbana catwalk collection. It's tailored, neat around the edges and inherently masculine. Ultimately the hair is easy to look after and we've added a sculpted feel by leaving length and bulk through the top section."
The master's touch began with a tight clip around the sides and back. The advancement of hair length was deliberate with poufy long strides of hair going across the head from one end over to the other and resting upon the side. Piecy fringes are placed into positions along the rest of the model's forehead.
Connie explains the look that caught the judges eye and clinched her a place in the Grand Final; "I thoroughly researched the forthcoming trends and Philip Lim's Autumn/Winter 2009 collection really stood out as an inspiration. I kept my models hair is smooth and tailored. It's a classic, sophisticated and masculine look that would appeal to a lot of my male clients."
Couper & Co could well be remembered for the award winning haircut with simplistic lines that flow smoothly in sync around the nape in the back and over the ears. This true gentleman's haircut is shaded darker in the front that is shown upon his forehead and along the bottom around the ears that became a real attention getter.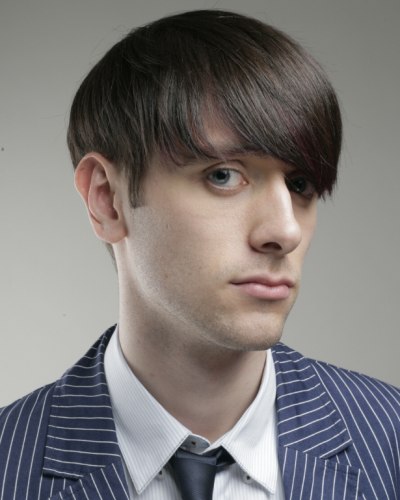 Emma-Louise and Nicola explain the look that caught the judges eye and clinched them a place in the Grand Final; "We loved the Dolce&Gabbana catwalk collection and Mark Ronson's timeless style. Using these inspirations as our starting point we created a striking look that combined classic elements with sharp, modern tailoring."
Faith Hair brings the grandiose of mystery to the scene with a neatly knitted shingled nape that follows through along the sides and graduates into longer layers that are worn in a combed down pattern. The longer hair is styled down to screen over part of the gentlemen's face lending an enigma to the picture and winks from the judges.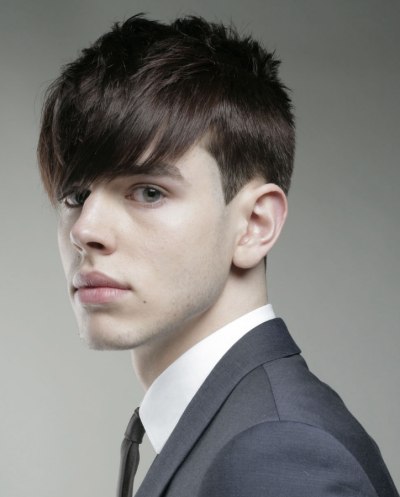 Leanne and Simone explain the look that caught the judges eye and clinched them a place in the Grand Final; "We loved the catwalk collections by Tom Ford and Dior Homme. For the haircut we went for a classic style with a twist – really clean lines and a subtle colour. The model's hair was originally black and we took him lighter."
Clean and polished lines of hair are clipped up around the ears and across the back as West Row Hairdressing continues with the beginning of a choppy crew in the crown that graduates into the hefty creation of a waterfall that dips over upon the young man's eyebrows. An ideal medium brown tone was brought up from a darker shade of brown pinpointing the punch in the hairstyle.
Labels: Hair styles